The Roads Not Taken With Pixar's Cars Films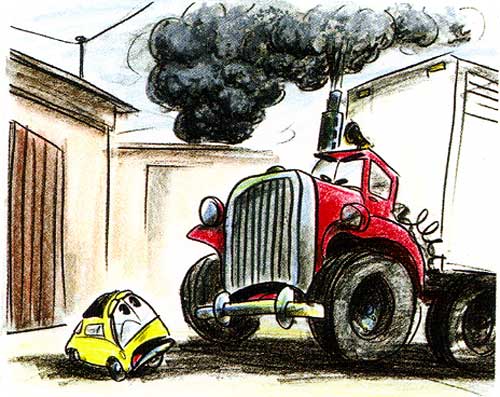 Given that Cars 2 (after just over a week in domestic release) has already earned over $100 million, it's clear that moviegoers can't get enough of Mater and Lightning McQueen.
But that said, one wonders if this Pixar franchise would have been as successful (since the first Cars film was released to theaters back in June of 2006, global retail sales of merchandise featuring these anthropomorphised autos are rapidly approaching $10 billion) if John Lasseter and Co. had gone with the studio's initial concept for this animated feature. Which -- rather than being built around an egotistical American race car -- would have starred a cute little foreign electric car.
Strange but true, folks. As Michael Wallis recounts in his excellent making-of book, The Art of Cars (Chronicle Books, May 2006), while Pixar was wrapping up production of A Bug's Life back in the Fall of 1998, story development artist Jorgen Klubien began cooking up a concept for a brand-new animated feature. One that would actually draw its inspiration from recent Danish history.
"In Denmark there has never been car production because the country is too small," said Jorgen. "Yet in the 1980s some enthusiastic folks got the idea of making a three-wheeled one-person car that ran on electricity. They put it into production and it worked great in the city, but out on the highway it was too slow. People also thought that (this) car was ugly."